Nebaj is a style probably better known to iconographers than to archaeologists since virtually all the better known Nebaj vases and bowls are in private collections or museums (in other words, few were excavated by an archaeologist).
This particular Nebaj bowl is in the Museo Popol Vuh, Universidad Francisco Marroquin, Guatemala City. I did a digital rollout in 1999 and present the results here. It is too long to show in full scale all at once, so I divided the rollout into two parts.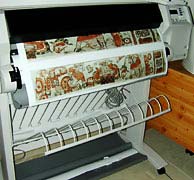 How are these prints made? What you see here is a photograph of a digital print of the rollout. The digital print is made with a Hewlett-Packard DesignJet 2800 CP large format color inkjet printer. The rollout is actually enlarged to 36 inches in length. The printer prints 36 inches wide by as long as you need. In this case the print is 6 inches "long" by 36 inches (or, 36 inches wide by 6 inches high).
At the left is a snapshot of the large format color printer (in the FLAAR office in Germany). To learn more about this kind of digital printer check out www.large-format-printers.org and www.FineArtGicleePrinters.org
The image itself is a digital rollout. This particular rollout could (in theory) be enlarged to several meters in length, but that would use a lot of expensive inkjet photo paper. The digital camera that does these rollouts is pictured elsewhere in this Maya-archaeology web site as well as in www.digital-photography.org and www.cameras-scanners-flaar.org
Directory of rollouts of Maya vases by Nicholas Hellmuth
We have pages with links to samples of our Maya vase rollouts of Classic Maya vases, bowls, and plates. These rollouts were accomplished in the 1990's.