The ancient Maya used images of unusual flowers, strange tropical plants, and a wide variety of insects, fish, birds, reptiles, and other animals such as jaguars, monkeys, and deer, in their mythology. This supernatural flora and fauna is depicted in Mayan art, especially on polychrome vases. Iconography is the multidisciplinary aspect of art, art history, archaeology, and anthropology which studies the meaning of these symbols.
The gods of the Mayan pantheon are a challenge to identify because many share the same features. Thus, the deity pictured below shares the same stylized deformed head and youthful appearance as the Maya Maize God, yet is in the unusual context of generating a flower in full bloom. As typical in Maya art, the flower is depicted partially in cross-section. A painting such as this reveals the complexity of ancient Mayan mythology and religion.

Here is a typical aspect of Maya art, turning a natural object into an anthropomorphic composite, here the idealized head of an eternally youthful male issues from a flower (or, a flower issues from the man's neck, depending on your point of reference).
Detail of a rollout of a polychrome Mayan vase from Peten, Guatemala (registered private collection, Guatemala).
Direct digital rollout with a large format Better Light digital turntable mode rollout camera system courtesy of Michael Collette.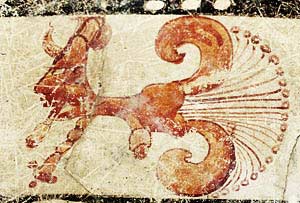 Copyright 1999 FLAAR Photo Archive