A picture is worth a thousand words, so here are some images from the Carlos Pellicer Museum, the state of
Tabasco's regional anthropology museum.

Featuring ancient Olmec and Maya Art and Sculpture.
Colorful photographs of jaguar god of the ancient Maya of preColumbian Mexico, discovered in a cave in Tabasco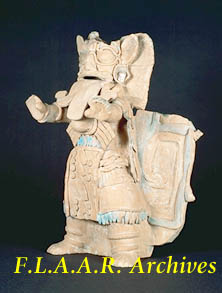 Standing warrior in the guise of the Jaguar God of the Underworld.
Would you like to learn about the pantheon of the 6th century Maya? Hellmuth's bi-lingual book (German-English) gives a look deep inside Maya religion.
727 illustrations to make the discussion easy to understand.
Monster and Men in Maya Art (not available in book stores, and NOT available via Internet book companies either). This book, published by ADEVA, Graz, Austria, is long out of print in Europe but the author has a few of the leather bound still remaining. Edition limited to 100 copies.
Image Menu (each of these images are links)