During the first months of 2006 we founded FLAAR MESOAMERICA as a non-profit association under Guatemalan law. Our facilities are situated in Guatemala City, where we expect to provide our services to the Mesoamerican region.
Our goals are to continue to be the leading institution in digital imaging technology and provide consulting and assessment in digital photography, art reproduction and conservation of cultural heritage to other institutions such as universities, museums, educational facilities etc. etc.
Our local projects in Latin American anthropology are primarily in Maya ethno-botany, in part due to long time interest and in part due to the presence of a botanist on our staff (Eduardo Sacayon). The long term interest derives from Nicholas Hellmuth's PhD dissertation which discusses and pictures such sacred flowers as the water lily. But today we are expanding this to study the plumeria, cacao. hule and other sacred plants and flowers.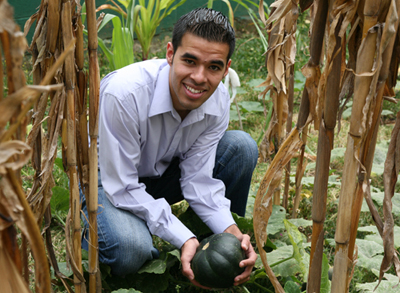 José Melgar with squash plant.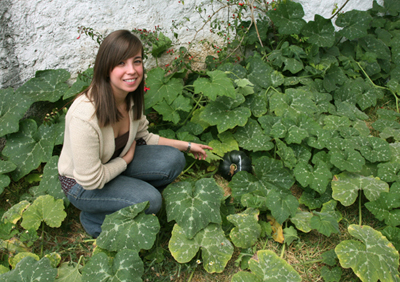 Ximena Jop showing the leaves of the squash plant.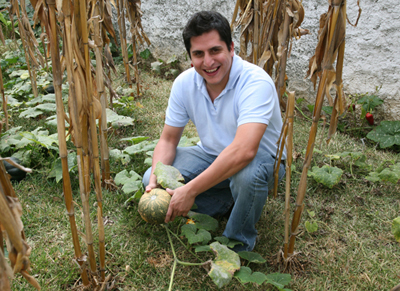 Juan Luis Sacayón with a large squash-like plant. In the myth of the Popol Vuh, the squash is associated with the ballgame, indeed at Chichen Itza and Bilbao ballcourt sculptures squash vines and squash flowers are very clearly shown.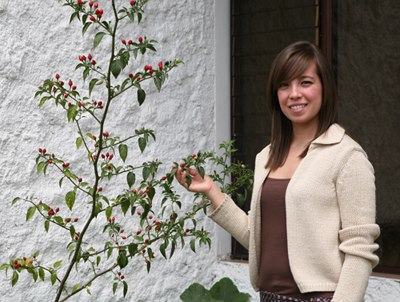 Ximena Jop with Chile plant. Chiles are native to the americas .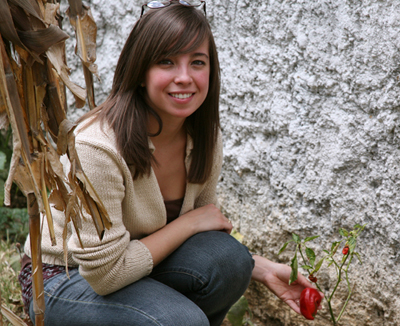 Ximena Jop with Chile Pimiento plant. Chile pimiento is a well known for its flavor and is used for several traditional dishes in Guatemala.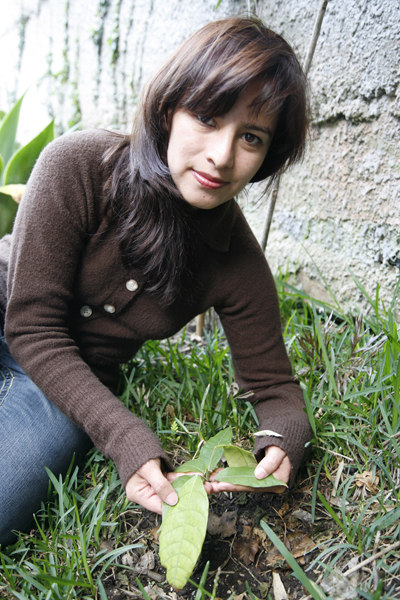 Mirtha Canon holding the leaves of a recently transplated cacao seedling in the Maya ethno-botany garden in the FLAAR offices. Mirtha is a biologist who is working for FLAAR on projects related to tropical flora and fauna of the pre-Columbian Maya.
Cacao
was considered a sacred plant.
Cacao seeds were used as money by the Aztecs and possibly by earlier pre-Columbian societies.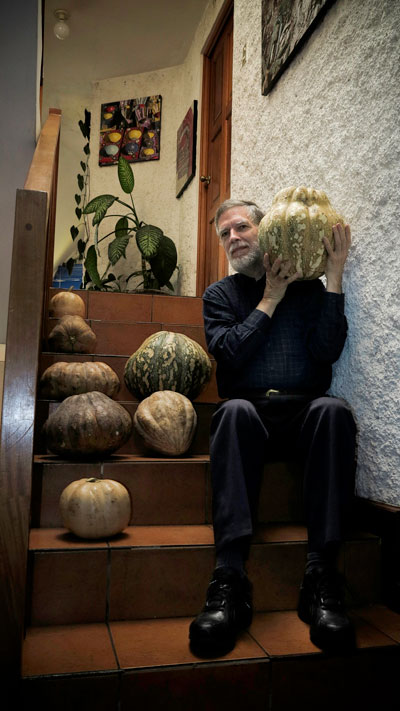 Six years after being formalized in Guatemala as a non-profit research institute, we are still studying tropical flora and fauna. And we are still studying ayote, calabaza, chilacayote, in part because squash flowers and vines are clearly pictured in ball game art of Chichen Itza (Yucatan Mexico) and Bilbao (Cotzumalhuapa area of Escuintla department, Guatemala)..